Attention tour route changes: May 21 will take the Southeast tour.
Click on Tour de Lincoln Map to Download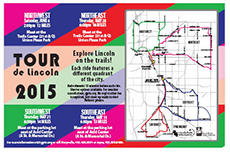 News & Announcements
denanoe

"Birds and Bikes", sponsored by Wachiska Audubon, is Sunday, May 24th. Ride your bike to the Fletcher Prairie, just off the MoPac Trail on 105th St. and enjoy the Fletcher Prairie and surrounding woodlands. Ride is from 1 - 4 pm.

denanoe

Before you ride, check out recent closures to Lincoln trails due to flooding.