The Great Plains Trails Network is a group of citizens who advocate and support a network of trails in and around Lincoln and Lancaster County, Nebraska, for jogging, biking, walking and horseback riding. Our website furthers our mission by providing ways for you to learn more and get involved. Thanks for visiting. Your support is appreciated.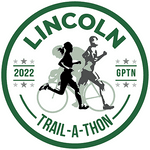 Lincoln Trail-A-Thon Registration OPEN!
The Lincoln Trail-A-Thon 2022 registration is now open. The challenge to complete all 78 miles of trails in Lincoln is back for the third year. New this year, all participants have a chance to win with our scavenger hunt for each monthly route. Click the button below to learn more and register today!